MotorWeek | Road Test: 2017 Audi R8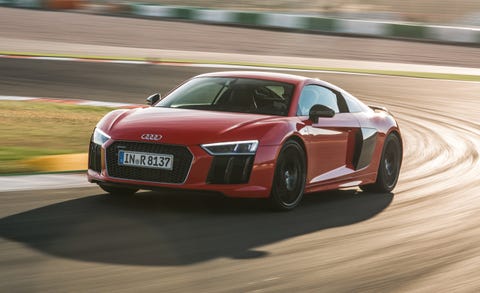 Hardware matters, but often it's the software that tells the hardware how to operate that makes the difference. That's true for smartphones that tech websites tear down to reveal $40 worth of parts, but increasingly also for cars—even the ones that don't drive themselves around racetracks. The new Audi R8 is perhaps the greatest example of tuning through 1s and 0s. There's no question the hardware here is superb. The Audi is the Lamborghini Huracán's twin sister, and mechanically the two cars are as closely related as any two GM J-bodies. They share the same engine, transmission, partially carbon-fiber floor and bulkhead, chassis hard points, steering system, and electronic architecture. Meaning it's the software that gives each of those components a very different character in the two supercars. The Audi is, as you would expect, dowdier and marginally less exciting, yet on first acquaintance we suspect it is destined to be seen as the higher achiever.
V-10 or V-10?
Buyers of this R8 will have far less choosing to do than before. The V-8 of the original has gone, along with the little-ticked option of the manual transmission and its glorious, gated gear lever. We mourn the passing of both, not least because it means the new car will be considerably more expensive in base form than its predecessor, even if far more powerful. A roadster version is a future certainty, and there eventually will be a smaller, turbocharged engine. For now, though, the decision is between the standard V10 coupe with 540 horsepower and the V10 Plus with 610 horses, both sharing the same 5.2-liter displacement and heady, 8700-rpm redline. There's no official word on pricing, but we're told to anticipate both sticking close to the market position of their predecessors. In other words, you can be fairly certain that, without at least $170,000 to spend, there won't be an R8 for you.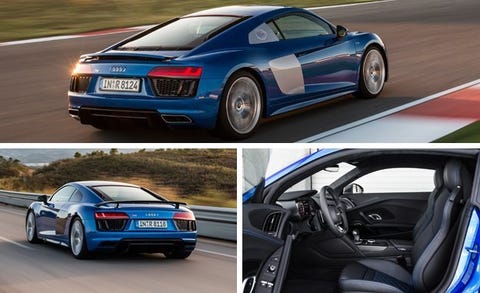 Advertisement - Continue Reading Below
Value always is a subjective call, but it's hard not to feel shortchanged by the styling, which is familiar to the point of being almost identical to the first-gen R8's. To reference Darwinian selection, and to risk yet another crop of threatening letters in green crayon and comments rendered in ALL CAPS, the R8's design has undergone about as much evolution as you would find taking place in a small pond during a winter's afternoon. The styling is edgier, the lines of the trapezoidal front grille sharper, but from more than 20 yards away it still looks more like a facelift than a new car (the telltale is that the "blade" behind the doors is now divided into two). LED headlights will be standard, but according to Audi USA we won't be getting the snazzy, optional laser lights any time soon, and possibly not ever—such are the hurdles of getting them through federal certification.
The cabin tries harder and works better. The old R8 had started to feel short of both finesse and toys compared with newer rivals, and this one delivers both smart, functional design and quality materials. Like the new TT (and upcoming A4), the R8 features Audi's "Virtual Cockpit," a configurable screen behind the steering wheel. This combines instrumentation with everything that would normally be done by a central display screen, and it can be switched among a conventional speedometer-and-tachometer combo, a performance readout that includes the seemingly mandatory g-meter, and Google satellite mapping that zooms close enough to let you see if the neighbors sunbathe topless.
As we noted after being allowed a single lap of the Le Mans circuit in the car, the R8's steering wheel now contains most of its dynamic controls. There's a Drive Select button, cycling among Comfort, Auto, and Dynamic modes, but there's also a new Performance mode—standard on the Plus, optional on the V10—that unlocks three additional settings via a wheel button depicting a checkered flag. These are Dry, Wet, and Snow—for those who want to hoon their R8 when it's 10 below. The other major driving option is ratio-varying Dynamic Steering. This will be strictly optional in the U.S., although the fact it was fitted to every single car on the press drive in Portugal suggests that Audi is determined to make us like it.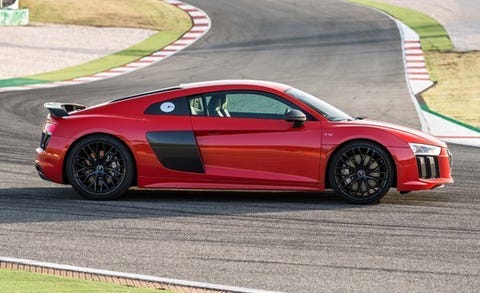 Familiar Favorite
Despite the almost countless man-years that Quattro GmbH's engineers put into the new R8, its starring attraction remains the part that has been changed least, the V-10 engine. It's worth the considerable price of admission in its own right, a high-revving masterpiece that stands as a glorious anachronism in a world where even Ferrari is downsizing and strapping on turbochargers. As in the Lamborghini, it has gained both port and direct injection and selective cylinder deactivation, but it is almost unchanged in character.
Revs are what the V-10 does best, but it's no anemic weakling at lower rpm. There's enough torque to keep it tractable when asked to trundle, and it's quiet and refined even at the sort of rapid highway cruising speeds we hope the Portuguese Polícia will indulge a visiting supercar in. In the hills, it takes a good while to build up to using the full allocation of revs; even upshifting at 6500 rpm it feels sports-car fast, with a good two grand still to go before reaching the limiter. Cross the 7000-rpm line and you're in definite supercar territory, the V-10 practically popping a can of spinach as it snarls its way to redline. Under hard use it feels almost as exciting as the Huracán, yet it's equally adept when asked to be a well-mannered boulevard cruiser or a polished autobahn-stormer.
https://www.caranddriver.com/reviews/a15105782/2017-audi-r8-first-drive-review/
Коментари
Все още няма коментари. Бъди първи!
Добави коментар
---
Тракийски свят не толерира обидни коментари и спам. Некоректни коментари ще бъдат изтривани.